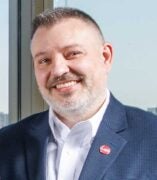 Shawn Conner-Rondot
Director of International Affairs and Outreach
Office of Global Engagement
Pronouns: He/Him/His
Contact
Building & Room:
516 UH, MC 227
Address:
509 University Hall, 601 S Morgan St., Chicago, IL 60607
Office Phone:
Email:
Related Sites:
About
Shawn Conner-Rondot joined the UIC Office of Global Engagement as Director of International Affairs and Outreach on April 16, 2022. Prior to joining UIC, Conner-Rondot held administrative positions at Indiana University for more than 15 years, most recently as an Associate Director in the Office of the Vice President for International Affairs.
Previously, he administered the Title VI-funded Center for International Business Education and Research at the Kelley School of Business. He is an active member of the Association for International Administrators and NAFSA: Association of International Educators.
Conner-Rondot received bachelor's degrees in English and history from the University of Missouri-Columbia and a master's in comparative literature from Indiana University. He is currently a PhD candidate in education policy studies, with a concentration in international and comparative education, at Indiana University. His broader research agenda falls into comparative education law across the Americas, the sociology of law (the interaction between law, legal/non-legal institutions, and social factors), and postsecondary education policy studies.