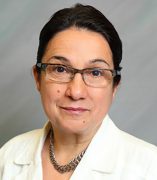 Nora Bonnin
Senior Director
International Affairs
Contact
Building & Room:
501 University Hall
Office Phone:
Email:
About
Nora Bonnin was named Senior Director of International Affairs in September 2016. Her University of Illinois at Chicago (UIC) career began with a graduate assistantship, during which she was charged with international grants management, coordination of a Fulbright-Hays Group Projects Abroad (GPA), and acting as a liaison with institutional funding sources. Among other tasks, Bonnin developed the mechanisms to support the UIC Student Exchange Program, and oversaw strategic collaborations, including one with Colegio de Michoacán, and a campus activities program with the Global Foundation for Democracy and Development of the Dominican Republic. In her current role, she oversees most aspects of the UIC campus international affiliations, official visits, the Fulbright Scholar Program, and the U.S. Department of State Diplomat in Residence Program. She also acts as the campus liaison with the Chicago Consular Corps.
Bonnin holds an MA in History from UIC and is currently completing a PhD dissertation analyzing international academic exchanges and higher education, from 1776 to 1825. She has published studies on international linkages of the Di Tella Foundation in Argentina, as well as the role of intercampus coordination for developing graduate degrees in an international context based on lessons learned from the European Union's pioneer work in this field . Her earlier research included a study on the flow of HIV virus across borders.
Bonnin's academic and work history are part of a consistent vocation focused on a conceptually broad range of international exchanges, from the spread of viral disease to consideration of the complex exchange of ideals and ideologies among international institutions through history. Her ability to trace the flow of these almost intangible entities adds to our understanding of deeper currents of thought and activity that influence academic international affairs as a significant force in the exchange of scholarly knowledge and ideas. Bonnin's deep knowledge of academic exchanges, strategic thinking, and negotiating skills contribute significantly to UIC's global engagement agenda.