Rebecca Singer, CON, Awarded Fulbright Scholar Grant 2021/2022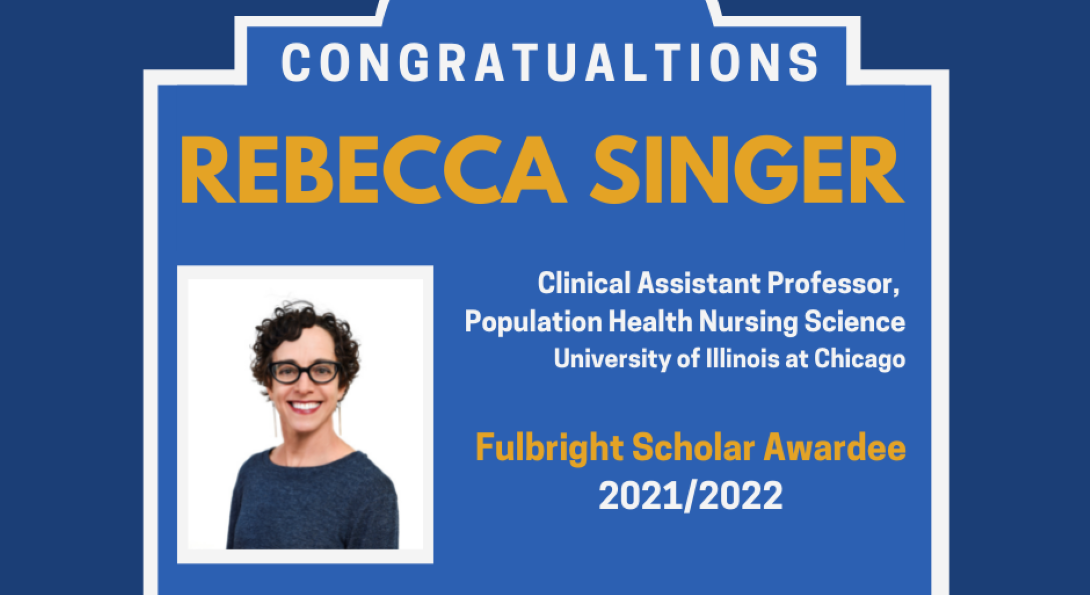 The Office of Global Engagement congratulates Dr. Rebecca Singer, Clinical Assistant Professor in the Department of Population Health Nursing Science in UIC's College of Nursing, for being awarded a 2021/2022 Fulbright Scholar Grant to pursue studies in Bulgaria for Spring 2022. In her own words, Singer describes her upcoming project:
The title of my project is "Strengthening Public Health Education: Increasing Capacity to Respond to Pandemics." This project will focus on teaching public health concepts to health sciences students. The COVID-19 pandemic has highlighted the importance of clinicians having knowledge in pandemic response. While clinical skills are important in treating patients, all health professionals must possess a strong knowledge base in developing, implementing, and evaluating prevention services and health promotion activities. In addition to teaching, I will work with Shalom the Organization of Jews in Bulgaria to strengthen its community health outreach work. Depending on the evolution of the COVID-19 pandemic, this could include implementing vaccination campaigns or refining primary and secondary prevention.  As a public health nurse with extensive global health experience, I have already spent a great deal of time practicing outside the United States. Yet as my career has shifted from full time practice to a mix of academia and practice, I now seek a global experience in academia.  The Fulbright Scholar Program will provide me with an opportunity to collaborate with teachers and practitioners who possess different knowledge or who use different methods. This level of collaboration will not only benefit me and my Fulbright host institution colleagues, but it will allow me to carry this knowledge and these methods back to UIC where I will share it with my colleagues and students. Additionally, I will collaborate with a community organization that will expose me to approaches that I will carry back to my own community. Finally, I look to share and grow my public health knowledge and global experiences to improve lives both in the US and abroad during a global pandemic.
We look forward to seeing Dr. Singer's contribution to public health education in a time when the field is more important than ever.
Modified on September 02, 2021