Fulbright Scholar Program
Fulbright Scholar Program
Established in 1946 under legislation introduced by late Senator J. William Fulbright, the Fulbright Program is the flagship international educational exchange program sponsored by the U.S. government. The program is under the United States Department of State's Bureau of Educational and Cultural Affairs (ECA), and is designed to increase mutual understanding between the people of the United States and the people of other countries.
To learn more about the Fulbright Scholar Program's options, click here.
Looking for a Fulbright specialist to visit your classroom? Visit https://cies.org/sir
Scholar-in-Residence Program - Fulbright Scholar Program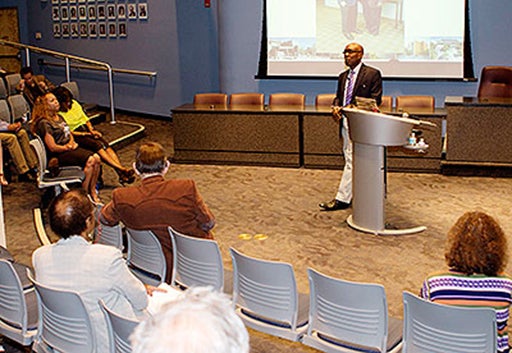 Dr. Reginald Oputa lecturing at his host institution, Pima Community College. The Fulbright Scholar-in-Residence (S-I-R) Program is a unique Fulbright Scholar Program initiative that is specifically driven by the goals of U.S. institutions of higher education to enhance internationalization efforts on their campuses.
cxfvb
To explore your options and more, enroll in webinar. For a full list of webinars, visit our 
webinar schedule
.
Get Involved - IIE Fulbright 75th Anniversary